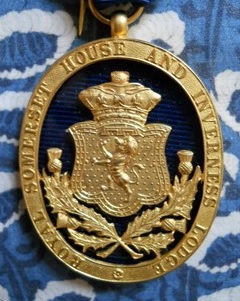 Rummer and Grapes, dont étaient membres Anderson et Désagulliers, est la plus prestigieuse des 4 loges fondatrices de la Grand Lodge of London and Westminster en 1717. Après sa disparition en 1747, elle renaquit en 1751 pour se renommer en 1767 Old Horn Lodge. Celle-ci absorba en 1774 la loge Royal Somerset House dont elle reprit le nom, tout en récupérant le n° 4. En 1828 elle absorba la Royal Inverness Lodge pour devenir la loge Royal Somerset House and Inverness No. 4 of Time Immemorial Constitution.
L'ouvrage de David Wyn Jones, Music in Eighteenth-Century Britain précise avec force détails (p. 79) que cette loge a développé une forte tradition musicale ; Cooke, Arnold, Samuel Webbe senior, Samuel Webbe junior et Fisher en furent d'ailleurs membres.
Le document de Bethany Cencer London Partsong Clubs and Masculinities, 1750–1830 analyse notamment les nombreux membres communs et les accointances entre d'une part la maçonnerie, et spécialement cette loge, et d'autre part le célèbre Catch Club (voir en particulier les pp. 12-14, 49).